Fellowship
In an endeavour to digitally document the heritage and history of Shahjahanabad (Old Delhi) and involve the community in the process, Digital Empowerment Foundation in partnership with UNESCO India launched the e-Heritage Project Fellowship in 2014.
In June 2014, a group of six Fellows, all residents of Old Delhi, were handpicked for the pilot project. Following a training module — organised by DEF and UNESCO — on heritage, digital documentation, preservation and web-building tools, the Fellows were sent out in the field to research on a wide list of topics that included havelis, koochas, katras, bazaars, festivals, personalities and the food of Old Delhi with significant reference to the Mughal era or the Mutiny of 1857.
After the successful run of the e-Heritage Project Fellowship in 2014, we decided to enter the second leg of the project. In August 2015, a new set of four Fellows were handpicked for the project. This time, the Fellows came from different walks of life. There were residents of Old Delhi and New Delhi, students and professionals, Delhhiites and non-Delhiites.
The content available on this website is a collaborative effort of the Fellows and team DEF.
We send a shout-out for applications on our Facebook page, so make sure to like our page.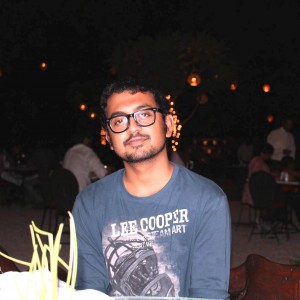 Bhaswar Faisal Khan
A resident of Delhi for the past five years, Bhaswar is a postgraduate student of Delhi University. He is well adept in the vibrant cultural heritage of Old Delhi, and is fascinated by oral history. The old city has been like a second home to him, from sourcing spices to hanging out with friends to getting lost in the lanes and by-lanes. He is a voracious reader of history and a spinner of tales. Mesmerised by Shahajanabad, Bhaswar, through the e-Heritage Project Fellowship, wants to digitally document lesser known stories, and map Shahajanabad and its journey through the ages.
Furkan Latif Khan
Furkan Latif Khan works as a Communications Officer in Restless Development (India) and is based in New Delhi. Following a Bachelor's degree in Journalism from the University of Delhi, Furkan went to the University of Edinburgh to pursue an MSc International Development. Today, she multi tasks between being a researcher, photographer, newbie film-maker and a development communication professional. Furkan's passion for working on issues related to development, urban design, language, art and architecture has brought her to the e-Heritage Project.
Harshvardhan Siddharthan
Harshvardhan Siddharthan is a culture and heritage enthusiast who, like most Delhi residents, is only an occasional visitor to the old city. Born and brought up in West and South Delhi, Harsh feels it is a shame that for most Delhiites acquaintance with Old Delhi doesn't go beyond the Jama Masjid or the Sunday Book Bazaar. Harsh's interest in this Fellowship stems from his desire to document as much of Shahjahanabad as possible at a time when many unique traditions of Purani Dilli are in a state of gradual demise. He recently quit mainstream journalism to pursue his passion of writing.
Punita Kapoor
A history major and a proud resident of Old Delhi, Punita Kapoor is well aware of the heritage of the Walled City of Delhi. Through the e-Heritage Project Fellowship, she hopes to explore and preserve the cultural glory of the imperial Mughal city of Shahjahanabad, which has been witnessing a gradual loss of history due to urbanisation and modernisation since the 20th century. Punita is fond of art and is a painter herself. Having lived all her life in Chandni Chowk, there is still a lot Punita hasn't explored in Old Delhi, and through this e-Heritage Project Fellowship, she hopes to do just that.

Ifrah
Ifrah is a heritage-enthusiast and undergraduate at Hindu College, Delhi University. A resident of Shahjahanabad, Ifrah is well informed about the cultures and tradition of the ancient city and believes Old Delhi is a hub of customs and values. She is part of the e-Heritage Project Fellowship because she is determined to do her bit for the deteriorating form of the city.

Jawwad Iqbal
Jawwad Iqbal lives in Old Delhi and works for the Delhi Youth Welfare Association, which manages the Hazrat Shah Waliullah Public Library in Old Delhi. Jawwad not only reads and understands the rich and valuable texts, many of them dating to early 19th century, but also contributes in preservation and restoration of the thousands of books there. It was, in fact, the deteriorating conditions of the books (read the history and heritage of Shahjahanabad), that got him involved in the e-Heritage fellowship. At present, Jawwad is pursuing a Master's degree from the National Museum Institute of the History of Art, Conservation and Museology.
Namra Naaz
Being a proud resident of Shahjahanabad, Namra derives her sense of culture and traditions from Delhi's rich and vibrant heritage and its "Ganga Jamuni tehzeeb ". Saddened by the gradual demise of all the prolific heritage, Namra is excited by the prospect of sustaining the legacy through electronic means. She shows keen interest in preserving the literature, culture architectural and traditional heritage of Shahjahanabad and other parts of Old Delhi.
Masood Saeed
Born and raised in Old Delhi, Masood is well aware of the issues concerning people of Old Delhi. According to him, Shahjahanabad is "the real Delhi". Familiar and well versed with the history of the Walled City as well as its culture and georgraphy, he hopes to preserve the rich stories of Old Delhi for the rest of the world and future generations.
Mohd. Arif
Mohd Arif is an Old Delhi aficionado who knows about every possible koocha, katra and lane — even the ones that are rarely visited by anyone. A passionate story-teller and writer, Arif knows hundreds of ancient stories and interesting anecdotes about Shahjahanabad and the many Mughal emperors. Arif is a proud resident of Old Delhi who is mesmerised by every piece of history of the city but is disappointed by its declining beauty. He, therefore, hopes to preserve the resplendent legacy of his "Faseel band sheher – Shahjahanabad"
Tahura
Tahura is firm believer of the fact that our heritage sites are akin to our houses and should be treated with the same love, care and respect. The careless attitude with which the various heritage sites are being handled in Shahjahanabad today not only saddens her but has also led her to work for their upliftment. Through the e-Heritage Project Fellowship, Tahura hopes to initiate a drive towards making people aware about their history and their responsibility towards it.